Click the "sign up now" button to receive a free copy of our photo essays directly in your inbox. With a subscription, you will also gain access to our archives, which contain all of our previous reports.
---
---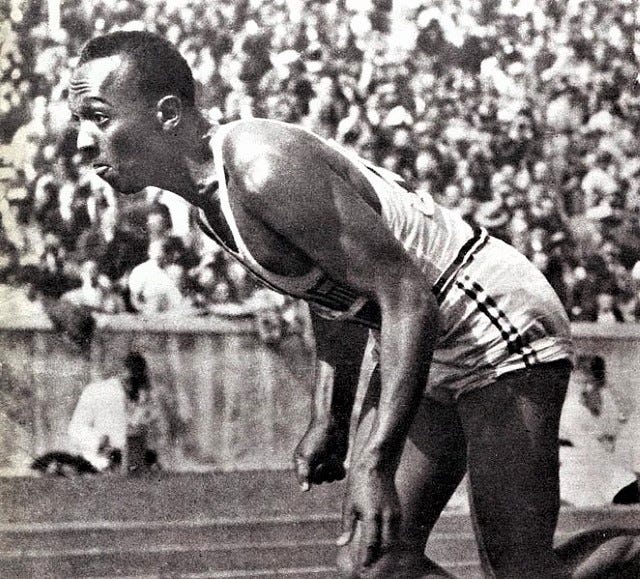 Jesse Owens, Berlin Summer Olympics, 1936.
Before 49ers quarterback Colin Kaepernick took a knee on the sidelines in 2016…
San Franciscon 49ers kneel during the National Anthem before a game against the Washington Redskins, FedEx Field, October 15, 2017. [Keith Allison]
Before Carlos Delgado stayed in the Blue Jays' dugout in 2004…
Carlos Delgado of the New York Mets at bat on June 25, 2008, against the Seattle Mariners in a game played in Shea Stadium. [OlympianX, Andrew Klein]
Before Nuggets guard Mahmoud Abdul-Rauf stayed in the locker room in 1996…
Mahmoud Abdul-Rauf, shown on December 4, 2010. [Stb-1]
Before Tommie Smith and John Carlos protested against racial discrimination at the 1968 Mexico City Summer Olympics….
There was Jesse Owens in 1936.
Jesse Owens staged the greatest political protest in sports history merely by showing up.
The 1936 Summer Olymics in Berlin put Hitler's Nazi Germany on the front page of every newspaper in the world. The games were an opportunity for Hitler to showcase the resurgence of Germany following the First World War; and it was an opportunity for Hitler to promote the myth of "Aryan" racial superiority.
Norwegian figure skater (and later, Hollywood star) Sonja Henie, Adolph Hitler and Hermann Goring, Berlin Summer Olympics, August 1936. (look at their eyes)
Hitler ordered the construction of an elaborate Olympic venue that included a 100,000 seat track and field stadium, six gymnasiums, several smaller arenas and an athletes' "village" of dormatories and dining halls.
Olympic Village dining hall, 2012. The German army used this building as a military hospital during World War II. The athletes' dormitories became military garrisons immediately after the Olympic games concluded. The few buildings still remaining in the Olympic Village are undergoing a renovation in hopes of attracting tourists.
The competition pool for the 1936 games, then and now.
The Berlin games would be the first Olympic games to be televised. The games were broadcast by radio to 41 countries.
Berlin Olympic Stadium viewed from the Hindenburg, August 1936.
Jewish athletes had been purged from German sports teams in 1933. The official Nazi party newspaper wrote that Jewish people and "Black" people should not be allowed to participate in the 1936 Olympic games.
Jesse Owens, Ralph Metcalfe and Frank Wykoff on deck of the SS Manhattan before they sailed for Germany to compete in the 1936 Berlin Olympics.
An international movement to boycott the Berlin games arose over the racist policies of the Nazis. The debate over a boycott was strongest in the U.S., with many Jewish groups opposed to U.S. participation.
Hitler at the games, August 1936.
The U.S. traditionally fielded one of the largest teams of competitors, and the U.S. decision on participation in the games would likely sway other countries.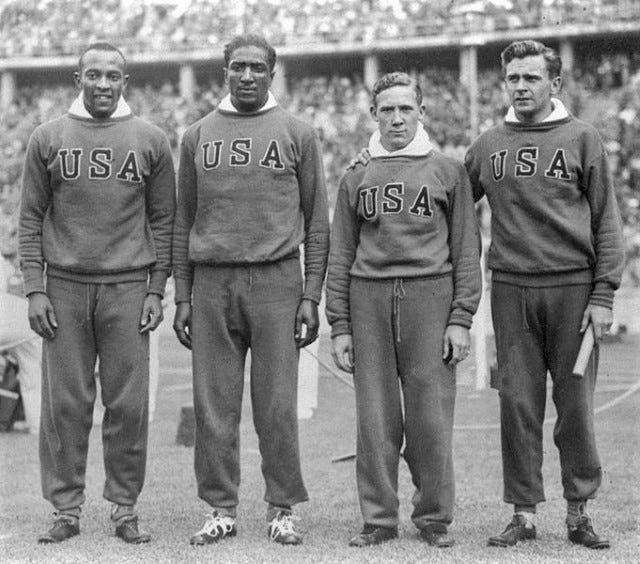 Gold-winning U.S. 400m relay team: Jesse Owens, Ralph Metcalfe, Foy Draper and Frank Wykoff.
To placate the boycott proponents, Hitler changed his position and signaled that Black and Jewish athletes would be allowed to compete at the games. Hitler also permitted a German star athlete, who had a Jewish father, to join the German team. Anti-Jewish signs were removed from Berlin's main tourist attractions.
Hitler enters the Berlin Olympic stadium, August 1936.
The U.S. Amateur Athletic Union voted to participate in the games and the international boycott movement collapsed. The U.S. sent a team of 312 members to Berlin, including 18 African Americans.
Archibald Williams (US), center, wins the gold medal in the 400m race in a photo finish. Godfrey Brown (Great Britain), left, takes the silver; James Lu Valle (US), right, takes the bronze. (look at their track shoes)
But the dominance of an African American track star at the Berlin games shattered Hitler's myth of Aryan supremacy. That African American — Jesse Owens — became a sports hero in Berlin with his record-breaking track and field performances.
Jesse Owens competes in the long jump.
Jesse Owens won gold medals in the 100m, 200m 4x100m relay and the long jump. Owens equalled or broke nine Olympic records and set three world records at the Berlin games.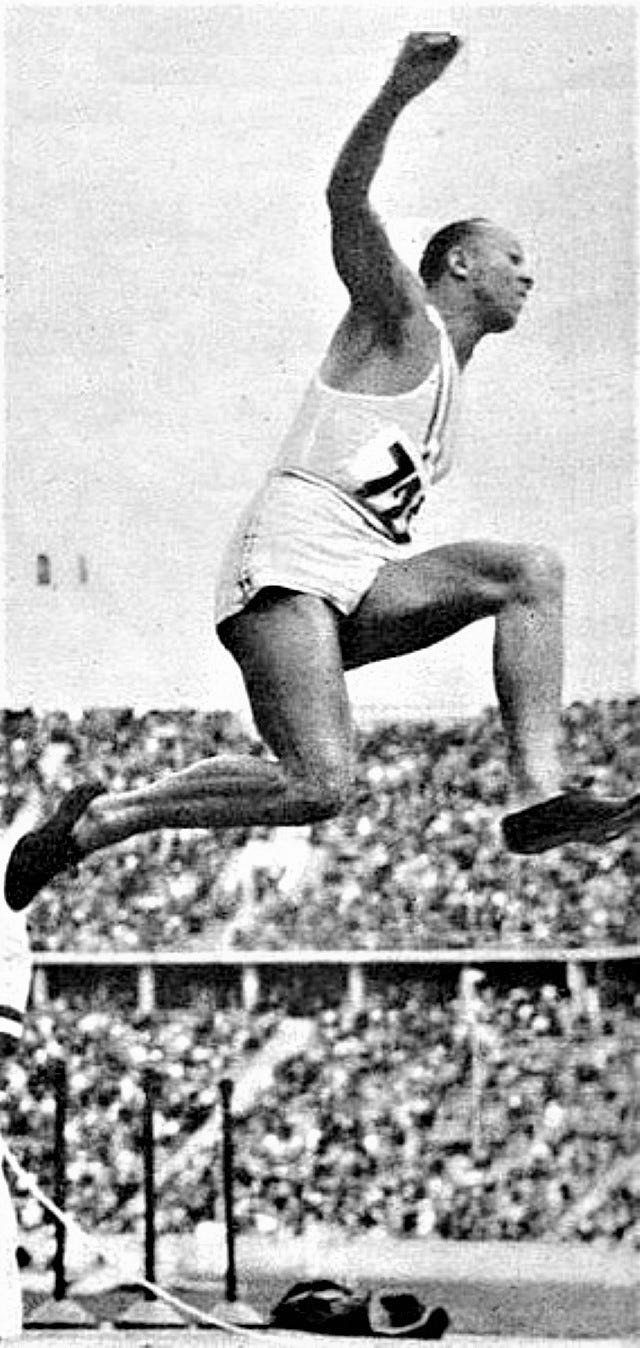 Jesse Owens competes in the long jump.
Owens became the most successful athlete to compete at the games. The people of Berlin hailed Owens as a sports hero, and Owens gained lasting international fame and respect.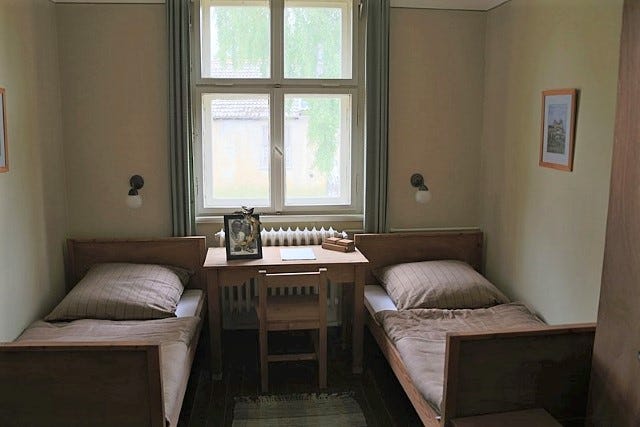 Jesse Owens' room in the Berlin Olympic Village, 2015. [drrcs15]
The most effective protest to Hitler's racial policies came by having an African American quietly show up and win.
Jesse Owens salutes.
---
---

Washington Redskins during the national anthem before a game against the Oakland Raiders, FedEx Field, September 24, 2017. [Keith Allison]
African American athletic stars have unique access to a political platform. If they choose to make a statement from that platform, people will pay attention. When that platform has been used wisely, good has come from it.
Good can still come from it.
A society that has historically exploited African Americans needs to let them have their say. The rest of us need to listen.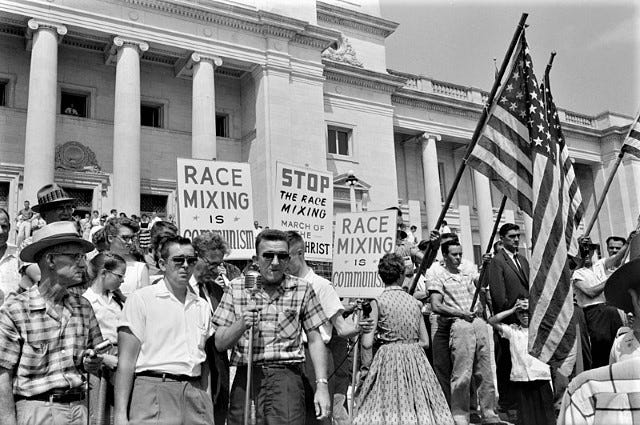 Anti-integration rally at the Arkansas state capitol building in Little Rock, protesting the integration of Little Rock's Central High School, August 20, 1959.
President Obama:
"The only way that we make (our democracy) work is to see each other, listen to each other, try to be respectful of each other, not just go into separate corners; and I do hope that anybody who is trying to express any political view of any sort understands that they do so under the blanket of protection of our men and women in uniform and that appreciation of that sacrifice is never lost." September 28, 2016.
Barack Obama, 2015.

---
Thanks for reading. If you enjoyed this photo essay, please click the "like" button below and share it with your friends. Also, consider becoming a regular reader. If you click the "sign up now" button, you will receive our free photo essays directly in your email inbox and gain access to an archive containing all of our reports.